Our Mission
To fish, harvest, and deliver offshore big game in a sustainable way with very little by-catch!
Simply Caught Seafood LLC takes great pride in supplying fresh NC caught seafood strait to its residents. A lot of the seafood caught by commercial fishermen, off our coast, gets trucked up North and shipped out of the county. This is not sustainable! Our approach to keeping the seafood in state allows heavily pressured species a break when not in season. It also helps create many opportunities for its residence by supplying great seafood and local jobs.
How this is achieved:
Maybe we are old school but we try to catch, process, and distribute as much seafood our self as possible. A tremendous amount of planning and preparation is required to achieve this. On a typical 2-3 day trip offshore we catch 10-50 fish a day. Each fish is individually gutted, bleed, tagged, and iced immediately upon gaff. We waste no time and have become very efficient at handling fresh seafood to offer you the best quality seafood possible. Upon reaching the docks we fillet and deliver our seafood all in house keeping you assured it has been properly handled.
However, we are not always able to catch all the seafood ourselves due to weather and the "luck" involved with commercial fishing. In addition to our fishing efforts we work with some of the hardest working commercial fishing captains in the world. Our goal is to form lifelong bonds with the fishermen of the Outer Banks to help supply western NC with homegrown seafood.
Simply Caught Seafood's partners enable us to provide a variety of seafood to western NC. We take great pride in our relationships with these Down Easters, farmers markets and many chefs.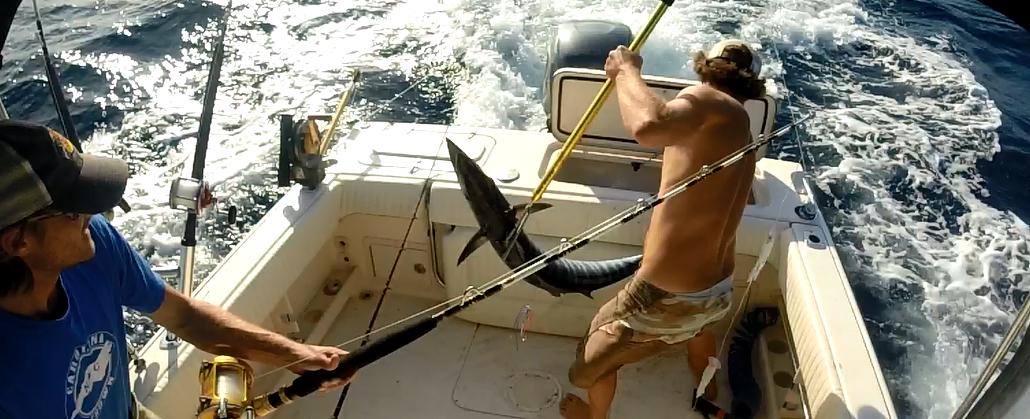 Our Delivery explained:
Fish is immediately bled, gutted and submerged in ice upon catching it at sea

at the dock we transfer the fish totes to our trucks and move the seafood to our greensboro fda/haCcp approved cutting facility

orders are taken for preferred delivery amount and condition (filleted or whole)

a small amount of seafood is filleted and all is repacked in ice for delivery

delivery to individual restaurants, farmers market, and CSF sponsers
The whole process from catching the seafood to delivering is a matter of days !
"Simplicity is a great thing when it comes to keeping seafood fresh. Every fish we deliver to the western cities of North Carolina will be taken care of with the upmost urgency"